Shopping addictions. Underwater mortgages. Crippling credit card debt. Money problems are no fun at any age, but when they happen before the age of 30 they can precipitate a lifetime of financial hardship.
And yet some of today's most popular personal finance bloggers have experienced these very challenges. Their debt-to-riches stories attract between 30,000 and 100,000 visitors a month, as well as media coverage in publications like Fortune and Forbes.
Sure, they've made mistakes, but who hasn't? While mainstream finance experts deal in generalities, popular bloggers like John Schmoll of Frugal Rules and LaTisha Styles of Young Finances deal in tell-all anecdotes that strike an emotional chord. By opening their own wallets (and even divulging their net worths), they make personal finance approachable — and seemingly insurmountable debt surmountable.
Hoping to inspire even more straight talking, we asked five of these top-rated bloggers to share their biggest financial mistakes, and how these moments inspired the smartest money moves they've made since.
Curbing a Shopping Habit with a 40-40-20 Budget
Money Tip: "The trick that works for me is to separate my spending account from my bill pay [account]. Once it's gone, it's gone!"
At the age of 23, Lauren Bowling of L Bee and the Money Tree had a sobering epiphany while scrolling through Facebook. Though she had moved to New York City with a Theatre degree and hopes of being an actress, her financial situation — $10,000 in credit card debt from years of shopaholism and only $300 in savings — meant she had to spend her days at a desk job. Meanwhile, her friends were busy posting about auditions, performances and workshops.
"It felt like everyone was living their dreams except for me," she says. "That's when I knew that I was paying for my bad money habits and needed to make a change."
In college, therapy for her shopping addiction had helped her recognize spending triggers — like online flash sales and hanging out at malls — but now it was time to focus on the damage done. She followed a strict budget: 40 percent of her income toward living expenses, 40 to debt and 20 for discretionary spending, making her last debt payment 18 months later. "I think living well within your means is the toughest, and at the same time, most important lesson," says Bowling, who started her blog to share her journey learning it.
Reconsidering Homeownership After a $360,000 Impulse Buy
Money Tip: "The best thing I've ever done was to start tracking my net worth. Seeing exactly where I stand each month… has helped me to make much smarter—and quicker!—decisions over the years."
The mohawked blogger J. Money (a pseudonym), founder of Budgets Are Sexy and Rockstar Finance, always thought he had his act together when it came to finances … until he and his fiancée bought a $360,000 townhouse at the peak of the housing bubble.
While the financial aspect stung (the value of the home hit $280,000 at its lowest), he says he doesn't regret the price tag as much as his skewed perception. All of his friends were getting married and buying houses — becoming a homeowner just seemed like the necessary next step in adulthood.
But J. Money and his wife soon realized homeownership wasn't for them. As a military kid, he was used to being on the move, and being a homeowner meant he had to stay put. The decision led him to start thinking more carefully to his financial decisions: "One of the biggest things I've learned is to really pay attention to the stuff I personally want and need in my life," he says, "Even if it goes against the norm." Now, he and his wife rent out their townhouse, and are back to being renters themselves.
Paying Off $45,000 in Debt—$3,000 at a Time
Money Tip: "Set aside a little money for yourself every month. Small things like a movie or dinner with a friend focused my mind off the debt and encouraged me to work harder."
John Schmoll of Frugal Rules didn't hear the word "budget" until he was 23. Growing up, his parents lived paycheck to paycheck — joking that if they still had $50 at the end of the month, they must have missed a bill. So when he finally had to face $25,000 of credit card debt he accumulated in college, on top of $20,000 in student loans, he had no idea where to start.
Schmoll was tempted to apply for bankruptcy, but he didn't even have enough cash for the filing fees. Reality hit when he asked his roommate if he could borrow money to pay the fees, and got denied: "He showed me some tough love," Schmoll says, "He said, 'No one made you fund a life you couldn't afford. You need to find a better way out.'"
And he did. "I realized that you can either let money control your life, or you can control it," he says. Schmoll found a non-profit credit counselor to negotiate lower interest rates and tackled his credit cards first, setting up small goals — I'll pay off $3,000 in the first six months — so he didn't feel paralyzed by the enormity of $45,000. Six years later, he was debt free.
From Living at Home to Saving a 12-Month Emergency Fund
Money Tip: "You can get out of debt, but then you're still stuck on zero and the situation repeats itself. Don't neglect to save money — even small trickles. You have to be moving forward."
With a CPA father, founder of PTMoney Philip Taylor grew up well-versed in tax and investing advice. But managing daily finances? Even while studying accounting himself in college, it just never came up.
So when he graduated into a cushy finance job, he didn't think twice about renting an expensive apartment or leasing a new car instead of saving. After nine months of misery at a big accounting firm, he quit and found himself back on his parents couch — studying for his Masters, working odd jobs and unable to afford the lifestyle he had created. He racked up $5,000 of credit card debt, in addition to $25,000 of student loans. "Ultimately, I think that's when I had my 'grow up' moment," he says, "I decided I wanted to provide for my own financial future."
He became an avid reader of personal finance blogs, saving enough to move out on his own after landing a new CPA job. Two years later, he decided to join the conversation with his own blog to share his debt and savings success: paying off his credit card debt in two years, his students loans in 10, storing up a 12-month emergency fund and maxing out his retirement accounts.
Paying Down $32,000 in Debt with a Cash-Only Budget
Money Tip: "Don't pay to use credit, get paid to use it. These days, I only use cash-back credit cards and I pay the balance off in full each month."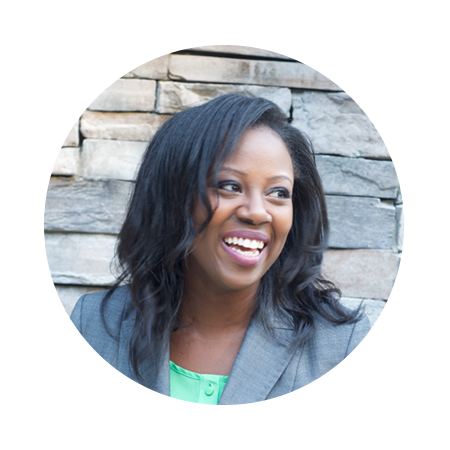 In 2010, LaTisha Styles of Young Finances graduated with her second diploma, raising her total education debt to $65,000. Facing an additional $22,000 of credit card debt and a $10,000 car loan from her years as a student, she was eager for her first paycheck.
But in the post-recession job market, her new Finance degree didn't make the job hunt any easier than her Spanish major had four years earlier. "I never thought I would have a problem — everybody has debt," she says. "But the recession made me realize there's no guarantee you will ever have a source of income, and you need to be prepared."
She soon found a full-time job at an investment firm, met with a credit counseling company to negotiate some of her fee concessions and interest rates, and created a three-year, cash-only budgeting plan to pay down her credit card and car debt. Young Finances was born in the process, combining knowledge from her degree and personal experience learning to manage money. She's now paid off more than $30,000 and recently set a goal to pay off her student loans by 2017.
Disclaimer: This blog post provides personal finance educational information, and it is not intended to provide legal, financial, or tax advice.